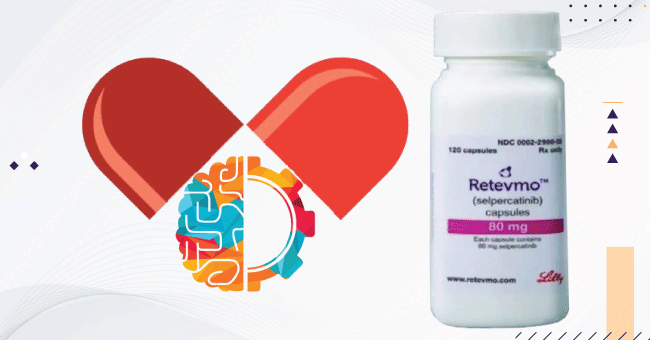 Selpercatinib is a drug that is sold under the brand name Retevmo. Retevmo is a kinase inhibitor used to treat various cancers, such as lung cancer, thyroid cancer, medullary thyroid
cancer, and certain other tumor solids. It is available in India, and the cost of Retevmo is economical and can be easily used for respective treatments against a valid and recognized prescription.
RETEVMO : USES

It is used in adult patients with locally advanced or metastatic non-small cell lung cancer
(NSCLC) having a rearrangement during transfection (RET) gene fusion.
It is actively used in adult and pediatric patients of age 12 years and older with advanced or
metastatic medullary thyroid cancer (MTC) with a RET mutation, as detected by an FDA-
approved test, which require systemic therapy.
RETEVMO is used in adults and children 12 years and older with advanced or metastatic thyroid cancer with a RET gene fusion, who require systemic therapy, and who are radioactive iodine-refractory. FDA-approved tests should detect them for treatment.
Adult patients with locally advanced or metastatic solid tumors with a RET gene fusion that have progressed on or following prior systemic treatment or who have no satisfactory alternative treatment option, Retevmo is used. Authorized dealers and Ikris Pharma Networks are recognized Retevmo suppliers in India.
RETEVMO: MECHANISM OF ACTION
It is
available as RETEVMO 40 mg capsules
containing Selpercatinib; it also comes in 80 mg. It shows its action by inhibiting tyrosine kinase enzyme, which results in the inhibition of wild-type RET and multiple mutated RET isoforms as well as VEGFR1 and VEGFR3 with IC50 values ranging from 0.92 nM to 67.8 nM. It blocks the activity of abnormal proteins made by the body due to changes in the RET gene. These abnormal proteins can lead to uncontrolled cell
growth and cancer in patients with such changes. By blocking the proteins, Selpercatinib helps to reduce the growth and spread of the cancer cells.
Posted by admin
On March 7, 2023
0 Comments